Widening the participation of people with disabilities by removing information barriers through accessible digital information systems (DAISY)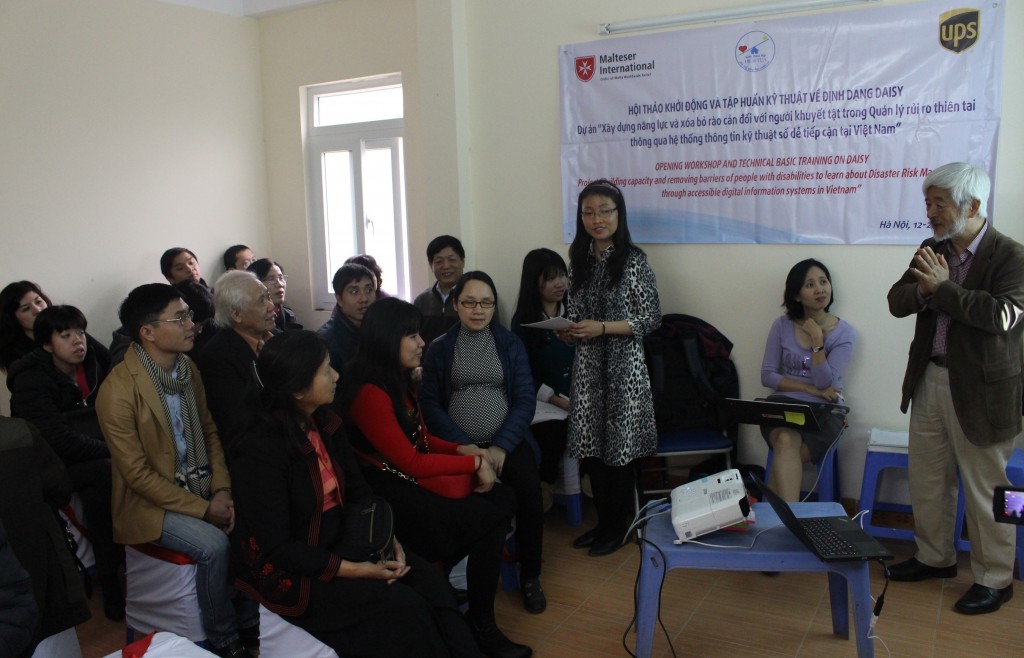 The project "Building capacity and removing barriers for people with disabilities in learning about Disaster Risk Management through accessible digital information systems" was launched in Vietnam on 12 January 2016. The event was organized at the office of Lift You Up, located in the Centre for Vocational Training and Rehabilitation for the Young Blind in Hanoi. The ceremony was attended by 33 participants representing the project's donors, disaster risk reduction (DRR) and disability focused organizations; Assistive Technology Development Organizations (ATDO), consultants who will provide technical guidance for the project, and the media.
Through the ceremony, a representative of Malteser International, who was allocated funding from the UPS Foundation provided the overall information such as why Malteser International initiated the project, as well as its duration, intended outcome and relevant activities. Besides, Mr. Hiroshi, Vice Director of the ATDO in Japan, on behalf of the technical consultancy group presented what DAISY is, the benefits of using it with persons having print disabilities, and gave real examples of its application in other parts of the world.
The participants highly appreciated the idea of the project in using DAISY as a technical solution to remove information barriers for people with print disabilities regarding DRR and other social activities. Mr Hoang Moc Kien, a teacher from Nguyen Dinh Chieu school for blind children said "I heard a lot about DAISY and tried to access to it; however, until now I could not. It is great that this project builds Lift You Up's capacity and provide equipment to start producing DAISY in Vietnam. Our people with disabilities can benefit a lot from this project".
Following this opening ceremony, a 10 day basic training on Daisy technology transfer will be provided for core Lift You Up members who are the direct beneficiaries of the project.
DRR team
Malteser International in Vietnam