Piggery in Ba Xa in the context of … Climate Change
"Previously, we did not know the techniques to build solid sheds for pigs and cows to protect them against extreme cold, hot ,… From a long time ago, the local residents often grazed pigs and cows in the forest or makeshift sheds. Thanks to the training and practicing course,  I am now confident and have enough experience to train other workers to build sheds for pigs and cows to cope with climate change. This is the reason why wherever I go people tenderly call me 'Rung, the foreman" , and I am so happy to hear that" – said excitedly by Mr. Dinh Van Rung, H're head of the construction team of Plan project at Ba Xa commune (Ba To district, Quang Ngai province).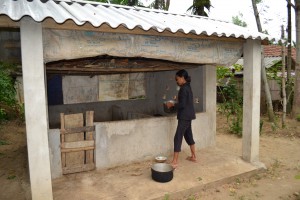 Continuous floods, storms or drought, etc. are visible consequences in the Central region with harsh climatic conditions, and now are more unpredictable in the context of climate change. Climate change is no longer a matter of interest for the scientists in a conference, and/or politicians in a meeting; it is also the case of the community. People often talk about the abnormal changes of weather. Farmers  could not survive when paddy fields are dying due to dried up rivers, buffalos suffer from hunger caused by lack of grass under the stress of extreme cold and disease, etc… Farmers of Ba Ta commune, Quang Ngai district are not the exception case. They have tried their best to cope with the warnings about the "cruel" nature to be coming true. The future of children needs to be protected starting now before it is too late for action. In line with the vulnerable groups, Climate Change Adaptation Program in 2012 has identified children as key vulnerable persons to kick off the project funded by Plan in Vietnam in Ba To district, Quang Ngai province. Accordingly, the four communes of Ba To, Ba Dinh, Ba Bich and Ba Xa are beneficiaries.
"Previously, we know nothing about climate change since the project has not come yet. Cattle were grazed freely around the mountain, streams and then died in the cold of winter, or disease in summer… They are frequently at high risks. Now it changes", Mr. Rung said while leading us around the commune. He introduced his group of ten members. Till now, they have built a total of 47 sheds both phase 1 and 2. Before the project, Mr. Rung and his team did not know how to read drawings and often went into forests, hired labor for peeling barks … with unstable income in the days without work. After being trained by the Plan project, particularly under the training and hands-on work carried out by the staff of the Center for Rural Development in Central Vietnam, he is now able to train his team as well as whoever want to learn. More importantly, the project has improved their income to spend for their living.  He also explained in detail the different technical aspects between the project's shed to cope with climate change and with the normal one. In the past, they often called pigs to come back when they want to feed them. But now, they feed them by feeders and water troughs. This helps them save time and labor to call and guide the pigs to come back, and to bring food to go out and in and not to be afraid of their pigs getting lost. Moreover, the shed could be beneficial against the effects of hot weather and takes advantage of storage of farm equipments such as harrows, plows, hoes.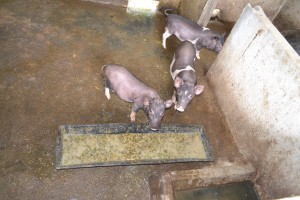 Piggeries are mainly built supported by solid concrete pillars, covered by shields in its front and back that could be dropped down when it rains or pulled up when the sunshine. Its roof is nailed solidly, tied by wire and covered by tires against the winds, tornados and storms. In particular, according to Mr. "Rung, the foreman", thanks to a pit, the pollution situation due to odor emissions was substantially reduced. And people no longer have disputes caused by unmanaged discharge of manure. Through the actual construction, with the heart of the foreman, Mr. Rung said that many people in Ba Xa commune hope to be supported to build sheds longer, further and more extensive. "Being called the foreman is so happy but it is a very hard responsibility. When everything is okay, it is good but when a few people slowly contribute the trees, or man-days, the construction process would be slow and I have to come to their homes to mobilize and persuade them until they understand to cooperate". He smiled gently.
Bao Hoa