Chicken Breeding Adapted to Climate Change in Quang Nam Province
After fighting in the War I returned home with only one leg and many other injuries, so I rely on Mrs. Phung and the children to do the heavy work around the house. Finding work with only one leg is difficult and our family income was very low.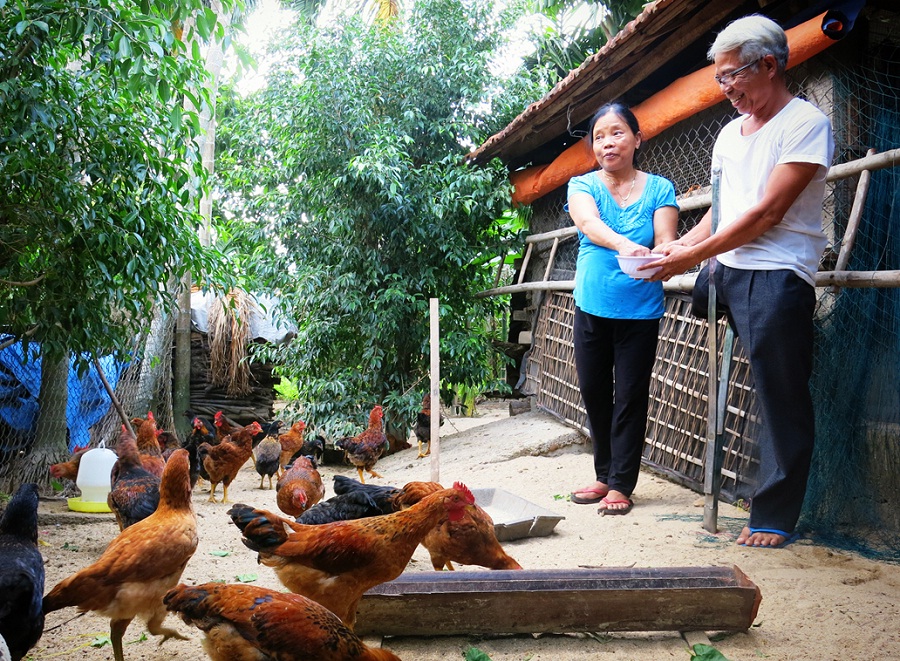 Wanting to do something to contribute to the increase of income for my family, I decided to register to join the Chicken Farming model for disease prevention in my province. The longer hot season and increased rain in the wet season is presenting unexpected challenges of disease in livestock and harsh impacts on agriculture in our community.
Initially the project delivered 50 chicks, 50% of their food, materials to build the cage and tools to care for the chicks.
We also had two technical training sessions where we learned the correct way to raise, care for and feed the chickens, manage disease and make a suitable cage that is adaptable to the harsh conditions of climate trends in recent years. For example:
Feeding chickens again in the evening will help them grow rapidly.
After 3 months of applying the new techniques our chickens are disease-free and well-developed, weighing from 1,5-2,5kg.
My wife and I decided to keep a few roosters for breeding, the rest we will sell at the market for approximately 90,000VND / kg, so we can buy more baby chickens and continue breeding.
-Mr. Le Dinh Trung of Quang Nam Province, a participant in the chicken breeding adapted to climate change model of the "Child-centre resilience project" implemented by Save the Children and Agriculture Extension Centre